Photocall © Milla Maluhy





RELEASE

THREE GIRLS FROM BRAZIL gathers and blends the styles of three great artists of the Brazilian Popular Music – the singers Jussara Silveira, Rita Ribeiro and Teresa Cristina. The name of the concert suggests an idea of gender and territory. Three women share on stage their vocals, sometimes in solo moments, other times in chorus or unisonous, in a two-hour show. Being each one from different Brazilian states - Bahia, Rio de Janeiro and Maranhão - and having been on tours throughout the rest of the country, we can say for sure that they represent the Brazilian cultural diversity. Jussara Silveira, who was born in Minas Gerais but grow up in Bahia, is a singer who has a very delicate and tuned voice and goes through several nuances of a more sophisticated Brazilian Popular Music (MPB). She has already launched 5 albums and has received important awards such as the one from the Critics of Brazilian Arts Association. Rita Ribeiro, who was born in Maranhão, has a unique and beautiful voice. Eclectic, she has rendered in her music a mixture of MPB, pop culture and the so-called "raiz" (root) popular music, which has led her to a nomination for the Latin Grammy Awards. Teresa Cristina, a "carioca" born in Rio de Janeiro, owner of a beautiful and melodic singing – also possessing an incomparable charisma – has built up her awarded career on the fertile borderland between several segments of the "samba" and the "raiz" popular music. Together with the Semente group, she has become a great name among the new generation of the "carioca" samba.

The repertoire of the concert, which blends new songs with other classics from popular song collections, some of them still vivid in people´s memory and others almost forgotten because they are regional songs – tries to reflect what the careers of Jussara Silveira, Rita Ribeiro and Teresa Cristina have in common and what is specific to each one, how artistically converging and diverging they are, leading us to think over the diversity of the Brazilian popular music.

Together, these three girls from Brazil perform a vibrant spectacle with the colors, sensations and rhythms so much appreciated in Brazilian music by foreign audiences. Performed in Rio de Janeiro and São Paulo, the concert, which was a great success acclaimed by both the audience and critics' reviews, was registered in CD and DVD formats by Quitanda/Biscoito Fino label in partnership with Manaxica Produções.




Release
· word ·



Technical Requirements
· pdf · winzip

__________________________________________________




The concerts were registered and released by the label Quitanda/Biscoito Fino in partnership with Manaxica Produções. Both CD and DVD counts on Jean Wyllys artistic direction and musical direction signed by Jaime Alem, who has been Maria Bethânia partner for 2 decades.

__________________________________________________



· R E P E R T O I R E ·


01. Meninas Do Brasil
(Moraes Moreira e Fausto Nilo)

02. Menina Amanhã De Manhã
(Tom Zé e Perna Froes)

03. Seo Zé
(Marisa Monte, Nando Reis e Carlinhos Brown)

04. Mulher Nova Bonita e Carinhosa Faz O Homem Gemer Sem Sentir Dor
(Zé Ramalho e Octacílio Batista)

05. Na Cabecinha Da Dora / Nega Do Cabelo Duro
(Ântonio Vieira e Pedro Giusti / David Nasser e Rubens Soar)

06. Para Ver As Meninas
(Paulinho Da Viola)

07. Maiúsculo
(Sérgio Sampaio)

08. Nú Com Minha Música
(Caetano Veloso)

09. Ludo Real
(Chico Buarque / Vinicius Cantuária)

10. Divino
(Rita Ribeiro / Zeca Baleiro)

11. Impossível Acreditar Que Perdi Você
(Márcio Greyck)

12. Dama Do Cassino
(Caetano Veloso)

13. Cantar
(Teresa Cristina)

14. Lá Vem A Baiana
(Dorival Caymmi)

15. Maria, Mariazinha
(Aloísio Ventura)

16. Pôxa
(Gilson De Souza)

17. Chula Cortada
(Roque Ferreira)

18. Isso Aqui Tá Bom Demais
(Dominguinhos / Nando Cordel)

19. Homem De Saia
(Marcelo Reis / Eneas De Castro)

20. Minha Tribo Sou Eu
(Zeca Baleiro)

21. Deixa A Gira Gira
(Domínio Público / Adaptação De Tincoãs
[Mateus, Dadinho E Heraldo])





Contacts for shows:
(+55 21) 2113.9236 / 8121.0542


manaxica@manaxica.com.br
http://www.manaxica.com.br

(+55 71) 3334.2391 / 9188.1461


show@jorgeeodragao.com.br
http://www.jorgeeodragao.com.br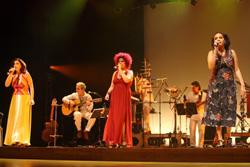 BIOGRAPHIES
JUSSARA SILVEIRA

Jussara Silveira has been on the road since 1980 and distinguishes herself by deciding to perform Brazilian Popular Music with no commercial compromising. Raised in Salvador, Bahia, much of her work is devoted to Bahian composers. In the '80s, she performed with Gilberto Gil and recorded with Caetano Veloso (Outras Palavras, 1981).

In 1989, Silveira left Salvador for São Paulo and now lives in Rio de Janeiro. Jussara's rendition for Caetano Veloso's "Dama do Cassino" (included in the compilation CD "Elas Cantam Caetano") was included in the soundtrack of the soap opera "Irmãos Coragem" and reached the Top Ten of Brazilian radios. Winning the "Copene de Cultura e Arte Prize" in 1996, Silveira recorded her first CD, the independent Jussara Silveira. Extremely well received by critics, the album launched her as the new revelation from Bahia. The album was re-released in the next year by Dubas Music label.

Her second album, Canções de Caymmi, was also praised by critics. On this work, Jussara, backed by some of the best musicians in Brazil, balances some of the most widely known Caymmi's hits with less successful compositions, but which also has superior musical qualities, like the haunting, mysterious "O Vento." The next album Jussara gives a voice to emerging composers and explores little known pieces by veterans such as Chico Buarque, Jorge Ben Jor, and Tom Zé. Both Nobreza and Entre o amor e o mar were released by Maianga Discos in 2006. Nobreza is the result of her musical partnership with Luiz Brazil presenting a sophisticated voice-and-guitar duet. Entre o amor e o mar is a record rich in songs about love and the sea.

In 2009, the independent label Biscoito fino/Quitanda released the DVD/CD TRES MENINAS DO BRASIL- special project which presents Jussara Silveira with Rita Ribeiro and Teresa Cristina, directed by the well-known Brazilian musician Jaime Alem, who has been Maria Bethânia partner for 2 decades.

website: www.jussarasilveira.com.br


_____________________________________


RITA RIBEIRO

Rita Ribeiro was born in the Brazilian Northern state Maranhão and after living in the capital São Luís, where she started her career as a singer, emerged as outstanding performance in Brazilian music in 1996.

In 1997, already living in São Paulo, she recorded her first CD titled "Rita Ribeiro", produced by Mário Manga and Zeca Baleiro. The CD and the concert Rita Ribeiro, after performance in several Brazilian capitals, brought national recognition to this singer from Maranhão.

In 1998 she signed contract with MZA Music, recording company of producer Marco Mazzola, and still under guidance of maestro Mário Manga, launched in 1999 her second CD, "Pérolas aos Povos", receiving exceptional praise by both public and critics. In the same year, along with Ney Matogrosso, Milton Nascimento, Zeca Baleiro and Chico César, performed in the Brazilian night of the "Montreux Jazz Festival", Switzerland, and was invited to perform at the "Festival Brasil - Caracas" in Venezuela, achieving great international dimension in her musical career.

In 2000, following the launch and marketing of the CD "Pérolas aos Povos", Rita Ribeiro was invited to participate in the Festival "Todos os Cantos do Mundo", sharing the stage with Lokua Kanza, considered one of the great exponents of African Pop Music; and still in the same year, had her CD launched in the United States and Canada by the record company Putumayo World Music, resulting in the realization of a tour between August and September 2000, through the main American and Canadian cities, among them San Francisco, Los Angeles, Toronto and Montreal, to audiences of 15 thousand people.

The result of this enterprise led Rita Ribeiro to be nominated amongst the best in the world to the 43rd Grammy Awards, in the category Best Latin Pop Album, in February 2001. Still in 2001, the singer launched her 3rd CD "COMIGO", produced by Marco Mazzola, co-produced by herself and her partner Pedro Mangabeira, and distributed by Abril Music record company.

Currently she develops the Tecnomacumba project, performing concerts in several Brazilian capitals.


website: www.ritaribeiro.com.br

_____________________________________



TERESA CRISTINA

Carioca Singer Teresa Cristina and Grupo Semente are among the crowd that is revitalizing Brazilian Folk Music going in the opposite way that many new artists are travelling. Instead of adding electronica and new instruments to Bossa Nova and Samba, they are actually revitalizing traditional sounds and instruments by offering master renditions with glorious traditional sounds. In "O Mundo é Meu Lugar - Ao Vivo", Grupo Semente offers glorious percussions that build the fundamental rhythm backbone to the mix of Samba the album offers. On top of the contagious beat, the guitars and other instruments build a very beautiful environment for Teresa Cristina's beautiful voice.

Originally from the North Rio borough of Bomsucesso, she won her experience and early fame in the bohemian district of Lapa, in downtown Rio. Teresa met her current musicians at the Semente Bar in 1998, and therefore the name of the group was born. To date, she has released four albums: her double CD debut with a tribute to Paulinho de Viola (her debut was nominated for the Grammy to the Best Samba record), her second album A Vida me Fez Assim, this album O Mundo é O Meu Lugar, a live collection of traditional and new songs recorded at the Municipal Theater of Niteroi, a Rio de Janeiro suburb and the last one, in 2007, Delicada.

website: www.teresacristinaesemente.com.br